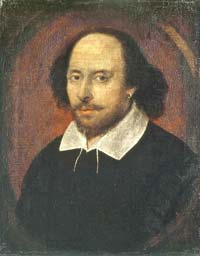 Born: Baptized April 26, 1564 in Stratford-upon-Avon, Warwickshire, England
Died: April 23, 1616 (at age 52) in Stratford-upon-Avon, Warwickshire, England
Nationality: English
Famous For: Henry V, The Merchant of Venice, Othello, Hamlet
William Shakespeare is one of the most famous literary masters of all time and is often referred to as the greatest English writer in the world. He flourished into a cultured writer with 17 comedies, 10 history write-ups, 10 tragedies, and five poems credited to his name. Today, his plays are performed throughout the world and they are available in countless dialects.
Shakespeare's Early Life
Although no accounts exist of his birth, the available records shows that William Shakespeare was baptized on April 26, 1564, at Holy Trinity Church. As such, it is estimated that he was born three days earlier. William was the third child of John Shakespeare and Mary Arden, in between two elder sisters and three younger brothers. There are scant records of his early childhood and education, and most scholars rely on estimates and hypotheses.
At age 18, Shakespeare married 26-year-old Anne Hathaway and together they had three children, although they lost one of them in 1596. Between 1585 and 1592, there are no records of William Shakespeare's life. These years are often referred to as the "lost years." It was during this period that Shakespeare is believed to have successfully built himself a career in acting and writing, as well as a partner in an acting company called Lord Chamberlain's Men (later changed to King's Men).
Career and Literary Works
Most of Shakespeare's work is estimated to have been produced between 1589 and 1613, starting out mainly with comedies and histories before extending to tragedies. He is mentioned, or rather criticized, in an article by London dramatist Robert Greene in 1592. By 1594, his first and second poems – Venus and Adonis and The Rape of Lucrece – were published. Along with those, 15 of the 37 already-written plays were published by 1597.
According to several of William Shakespeare's financial documents, his partnered acquisition of a theatre along the River Thames brought him significant gains for him to become a wealthy man. By 1598, his name had become a trademark and his literary flair was highly reputed. Shakespeare continued to pen masterworks and act in his own plays and those of other playwrights.
Most of his plays are written as quarto texts; that is, on a leaf of paper folded four ways. Shakespeare's early plays followed the conventions of the time and interweaved intricate symbolism and rhetorical phrases. With time, his ingenuity got the better of him and he began creating an innovative free flow of unrhymed lines from the traditional style to fit his own literary purpose.
Histories like Richard II, Henry VI, and Henry V sought to depict the destructive rule of corrupt officials while romances like A Midsummer Night's Dream and The Merchant of Venice provided for witty on-stage theatrics.
Later Works and Death
William Shakespeare's tragedies and tragicomedies were among his final works. After 1600, he penned Hamlet, Othello, Macbeth, and King Lear which illustrated some timeless human characteristics such as love, betrayal, and vengeance.
His final tragicomedies included Cymbeline, The Winter's Tale, and The Tempest.