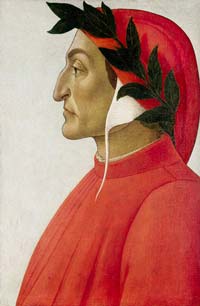 Born: c. 1265 in Florence, Italy
Died: Sept 9, 1321 (at age 56) in Ravenna
Nationality: Italian
Famous For:
Divine Comedy
Dante Alighieri was an Italian prose writer, poet, moral philosopher, literary theorist, and political thinker. He is considered to be one of the best poets that the Western civilization has ever produced. He is well known for La Divina Commedia, or The Divine Comedy, which is thought of as the best literary work ever composed in the Italian language.
Dante's Childhood
Dante was born into the prominent Alighieri family of Florence, Italy, in 1265. He was the son of Alighieri de Bellincione and Donna Gabriella. As a kid, he was nicknamed Durante in Florence's Baptistery. The name Dante is the shortened version of Durante.
In those days, Italy was not a united nation, but a collection of small city-states. Power struggles between noble families were the source of wars between states. The elder Dante, heir of the poor but noble family, was among seven elected officials in charge of the Florence government when the collision in the street during the May Festival in 1300 resulted in a fight that escalated into the civil war that got Dante's party overthrown and its leaders exiled from Florence.
Dante's Education
Dante's first studies were mostly in grammar, rhetoric, philosophy, theology and literature. He was a disciple of Brunetto Latini, who influenced his cultural growth. In his teens, Dante was a Stilnovo poet and had many friends among other members of Stilnovo Poetical School. When Bice di Folco died, Dante started studying theology and philosophy in depth, also attending some of cultural associations in the city of Florence which offered lessons about Aristotle as well as St. Thomas Aquinas.
Dante as an Author
In 1293, Dante published the book known as The New Life. In the book, Dante related how he fell in love with Beatrice and found his joy in thinking about her. Shortly thereafter, Dante published De Vulgari Eloquentia, the argument for composing poems and other works in a language that people speak (Italian language in this case) instead of Latin.
He then wrote The Banquet, in which he discusses styles of poetry and grammar as well as complains that his poems and to explain that some of the things he wrote in the book Vito Nuova have been misunderstood.
In 1313, Dante published On Monarchy, in which he stated that the authority of the secular prince is not derived from that of the church, and it is not given to him by the Pope, but from God. When he started writing The Divine Comedy is not known. However, it appears that Dante completed the first of its 3 parts by the year 1314 and the last part before his death.
Dante's Exile and Death
In 1315, Uguccione Della Faggiuola forced Florence to grant amnesty to the exiles. Florence agreed but required that in addition to paying a huge amount of cash, the exiles would do a public penance. But Dante refused. When Uguccione conquered Florence, Dante's death verdict was reduced to house arrest, on one condition– that he vowed to never return to the town.
When Dante declined to go, Uguccione confirmed his death sentence and also extended it to his children. Dante Alighieri still hoped that one day he may be invited back to his home town on honorable terms, but he died in exile in 1321.