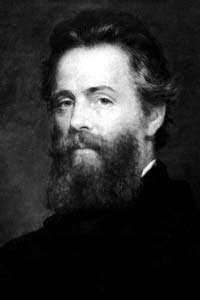 Born: Aug 1, 1819 in New York City, New York
Died: Sept 28, 1891 (at age 72) in New York City, New York
Nationality: American
Famous For:
Moby Dick, Billy Budd
Herman Melville was an American novelist and one of the leading figures in the history of literature. His exploration of psychological and metaphysical themes influenced the twentieth-century literary concerns, although his works remained in obscurity until the 1920s, when his work finally received the recognition he deserved.
Early Years
Melville was born in New York on August 1, 1819, in a family in decline. In 1837, during his teen years, he sailed for Liverpool as a cabin boy. He returned to the United States and worked as a teacher and in 1841, he traveled to the South Seas aboard the whaler Acushnet.
After 18 months of passage, he jumped ship in the Marquesas and lived for a month among the cannibals. He escaped an Australian trader and landed in Papeete (Tahiti), where he spent some time in prison. He worked as a farmer and traveled to Honolulu (Hawaii), and from there, in 1843, he enlisted on the USS United States frigate. This was when he began writing novels based on his experiences as a sailor and eventually took part in the literary life of Boston and New York.
Writing Career
Melville's first five novels quickly achieved great popularity. Typee was published in 1846 while his next two – Omoo and Mardi – were published in 1847 and 1849 respectively. They are set in the islands of the South Seas.
Redburn, published in 1849, was based on his first sea voyage, while The White Warrior (1850) recounts his experiences in the army. In 1850, Melville settled on a farm near Pittsfield, Massachusetts, where he developed a close friendship with Nathaniel Hawthorne, an author who exerted a great influence on Melville and to whom he dedicated his masterpiece, Moby Dick in 1851.
Melville's Moby Dick
The central theme of Moby Dick is the conflict between Captain Ahab, skipper of the whaler Pequod, and the great white whale that tore his legs off up to the knee. Ahab, eager for revenge, launched a desperate search for his enemy.
The work far exceeds the adventure and becomes an allegory about the incomprehensible evil represented by the whale, a monster of the deep, which attacks and destroys what gets in one's way.
Later Works
Moby Dick was not a commercial success and Melville's next novel, Pierre or the Ambiguities (1852), a dark allegorical exploration of the nature of evil, was a dismal failure. Today, however, this work has a certain acceptance among critics and the public.
Israel Potter (1855), a romantic story, suffered the same fate as the first two. In his collection of short stories entitled Piazza Tales (1856), there are some of the best crafted shorter works of Melville. Two of the particularly noteworthy works include Benito Cereno and Bartleby the Scrivener.
Between 1866 and 1885 Melville made his living as a customs inspector in New York. During this period he published several volumes of poetry that have been fairly valued over time. These include Battle Pieces and Aspects of the War (1866) and Clarel (1876), the story of a pilgrimage to the Holy Land peppered with adventures.
Melville's Later Years
In 1891, Melville completed the novel Billy Budd, Sailor, (1924), the story of a young boy who represents innocence, but is dominated by an evil and hardened officer who is the personification of evil.
Melville died in New York on September 28, 1891, shortly after completing Billy Budd. This work has been carried to the theater, the cinema and the opera house by the English composer Benjamin Britten in collaboration with the novelist E. M. Forster.