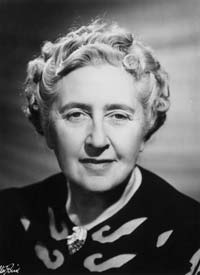 Born: Sept 15, 1890 in Torquay, Devon, England
Died: Jan 12, 1976 (at age 85) in Wallingford, Oxfordshire, England
Nationality: British
Famous For:
The Mousetrap, And Then There Were None
Agatha Christie was an English novelist who was best known for her crime fiction. In all, she wrote more than 60 novels and 15 short story collections in this genre. She created some of the literary world's best known detectives, such as Miss Marple and Hercule Poirot, and many of her stories have been successfully adapted for stage and screen. The Mousetrap, which opened in the West End of London in 1952, is the world's longest continuously running play. Christie also wrote several romances, using the pen name Mary Westmacott. Queen Elizabeth II made Christie a Dame in 1971.
Christie's Early Life
Christie was born in the Devon resort of Torquay, the daughter of an American stockbroker. Her father barely saw her during her younger years and Agatha instead was looked after by her sister and mother. The young woman worked as a nurse during World War One, during which time she acquired considerable pharmaceutical knowledge, including details of a number of poisons. This served her well during her career as a detective writer.
Marriages and Disappearance
Shortly after the start of the war, she married a Royal Flying Corps pilot, although the marriage was unstable and ended in divorce in 1928. Two years before the divorce, Christie went missing for 11 days, shortly after a quarrel and after her husband asked her for a divorce. A massive search was conducted to find her, but she returned unharmed and never explained to anyone where she had gone.
Christie's Career Beginnings
Christie married again in 1930, and this union was calmer. By this time, she was an established writer, having first made her name with The Mysterious Affair at Styles in 1920. This was her first book and it marked the debut of Hercule Poirot, although his character was initially written as that of a Belgian refugee.
The public response was very positive with favorable comparisons being made between Christie's book and the still-popular works of Conan Doyle. Encouraged by the novel's reception, Christie wrote more than 40 further books starring Poirot. Nevertheless, the author herself is said to have had more affection for her other enduring creation, the charming and elderly Miss Jane Marple.
Christie's Literary Style
Most of the novels that Christie wrote followed a broadly similar path. A murder or murders were committed by an unusual – and sometimes remarkable – method, which very often involved the use of poisons. In a technique which came to be associated most strongly with the Poirot novels, the detective would carry out an interrogation of each person suspected of the crime, then gather them all together in a single room.
Here, he or she would explain, sometimes at considerable length, who had committed the murder and how they had done so. The novels' success therefore rested less on unusual structure than on psychological thrills and suspense.
Post-WWII Work
Christie returned to her former interest of pharmacology during World War Two, when she was employed at University College London. After the return of peace, she continued to write extensively, with her novels becoming increasingly popular all over the world. The Mousetrap opened in London in 1952, and has never closed.
Later Years and Death
Her works were also often taken up by television and cinema, with 1974's adaption of the Hercule Poirot mystery Murder on the Orient Express being Christie's most notable big-screen success. By then she was becoming ill, possibly with Alzheimer's disease, and she died at the age of 85 in 1976.