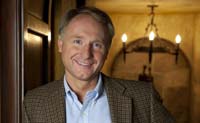 Born: June 22, 1964 in Exeter, New Hampshire U.S.
Nationality: American
Famous For:
Angels & Demons, The Da Vinci Code, The Lost Symbol
Dan Brown was born on June 22, 1964 in Exeter, New Hampshire. He was the first child born to his parents and has two younger siblings. His father was a mathematics teacher at Phillips Exeter Academy, where Brown spent a considerable amount of his childhood. His mother was involved in the Episcopalian church, and was even the church organist. Throughout his childhood, Dan was interested in puzzles and always worked on math problems that his parents gave him.
Brown's Education
Dan also did a lot of crossword puzzles and anagrams during his spare time, as he loved working on them. His parents even hid presents for him on Christmas so he could discover them using clues they set out. He attended Phillips Exeter Academy and then went to Amherst College soon after. At this college, he became part of the Psi Upsilon fraternity as well as the Amherst Glee Club. He studied writing while in college and eventually graduated in 1986, after spending a year studying abroad in Spain.
Brown's Career
Dan was not a writer when he graduated college. He actually decided to try for a musical career, which led him to creating SynthAnimals, which contained tracks for children. Soon after this he self-published a CD and created Dalliance, his own record company. To further his career, he decided to move to Hollywood, California, and looked for jobs being a pianist, singer, or songwriter. Since he did not find a job right away, he taught at Beverly Hills Preparatory School for an income.
Dan met Blythe Newlon in 1997, and she later ended up becoming his wife. He released a few more CDs, but his career never really took off like he would have liked. In 1993, he decided to move with his wife back to New Hampshire where he grew up. He found at a job at Phillips Exeter and Lincoln Akerman School teaching English and Spanish.
Career as an Author
Dan first thought of writing when he was inspired by the book The Doomsday Conspiracy. Soon after this, he quit his job and started writing Digital Fortress as well as a humor book that his wife wrote with him. In 1998, Digital Fortress was published, followed by another book that was written with Blythe. Since Brown quit his job in 1996, he had a lot of time to spend working on his novels. Angels and Demons was released in 2000 and then Deception Point was released in 2001.
None of Brown's books were very popular until he released his most popular book, The Da Vinci Code, which was the book that gained him fame. This book sold over 81 million copies and pushed his other books into the limelight. Brown was even setting records and being featured on top lists by magazines. In 2006, this novel was turned into a movie starring Tom Hanks, but it was not well received and got many negative reviews from critics and viewers.
Dan Brown Today
Other books that Dan Brown wrote include The Lost Symbol and Inferno, both of which became bestsellers. The Lost Symbol is also schedule to become a film, but production is still in the early stages. Brown still writes today, mainly on books that feature Robert Langdon. He and his wife also created a scholarship fund for writing students at Amherst College.