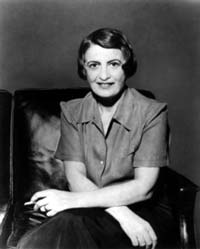 Born: Feb 2, 1905 in Saint Petersburg, Russian Empire
Died: March 6, 1982 (at age 77) in New York City, New York, U.S.
Nationality: Russian Jewish
Famous For:
The Fountainhead, Atlas Shrugged
Russian-American author Ayn Rand, best known for her philosophy-rich novels The Fountainhead and Atlas Shrugged, was never a favorite among literary critics. However, her fiction, nonfiction, and collections of essays influenced a philosophical movement called Objectivism that is still alive and well.
Ayn Rand's Early Years
Ayn Rand was born in St. Petersburg, Russia. Her father owned a pharmacy that was later confiscated when the Communists were successful in the 1917 Revolution, leaving Rand and her family facing starvation and difficult times.
Rand was a thoughtful, intelligent child, teaching herself to read at age six and, at age 9, deciding she wanted to devote her life to fiction writing. At eight years old, she encountered a fictional hero in a French magazine, the heroic ideal which would stay with her and feed her literary visions for the rest of her life.
The Philosophy of Ayn Rand
Ayn Rand's personal philosophy, which eventually evolved into a school of thought called Objectivism, rejected faith and religion as ways of acquiring knowledge. In fact, Objectivism recognized only intelligent, individual reason as the means of obtaining knowledge.
Rand favored ethical and rational egoism over philosophies stressing altruism, therefore raising the worth of the individual and individual thought and reason over collective, herd politics. A firsthand witness of the 1917 Bolshevik Revolution and its devastating personal effects on her family, Rand became a lifelong opponent of statism and collectivism.
She supported minimal government and "laissez-faire," or "hands-off," capitalism, believing the natural, intrinsic energies of the marketplace was not only the most effective way, but the only way, to protect individual rights.
Rand's College Years
Rather than embracing the mysticism that was a huge part of Russian literature, Rand instead considered herself a European writer. French writer Victor Hugo was the writer she most admired.
She studied philosophy and history at the University of Petrograd, graduating in 1924. As the colorful Russian society gradually became dulled after the Communist victory, Rand increasingly found pleasure in operettas from Vienna and films and plays from the West. She began studying screenwriting later in 1924 at the State Institute for Cinema Arts.
Ayn Rand in Hollywood
In 1925, she wrote a booklet on actress Pola Negri entitled Hollywood: American Movie City, which was published in 1926. That booklet and another one she published were later republished in 1999 in the collection Russian Writing on Hollywood.
In late 1925, Rand obtained a visa to leave Communist Russia and visit relatives in the United States. She never returned, adopting the United States as her home country.
On her second day in Hollywood, movie legend Cecil B. DeMille saw her at the gate to his studio and hired her, initially as an extra and later, as a script reader. Just the next week, she met an actor, Frank O'Connor, who would provide the living model for her iconic fictional characters, characters such as the protagonist for The Fountainhead, Howard Roark. Rand and O'Connor were married in 1929 and were together for the next 50 years, until his death.
Rand Finds Success
While literary critics may have been confused by Rand's fiction, the public appreciated its message championing individualism and, through word of mouth, made her 1943 novel, The Fountainhead, a bestseller. This was the first time a work of fiction had been propelled to the bestseller list strictly by public preference alone.
Rand worked hard to write the screenplay for The Fountainhead, but wartime sanctions and restrictions delayed production of the film until 1948. She began writing her novel Atlas Shrugged in 1946. It was published in 1957 and outlined her philosophy in dramatic fashion by using politics, sex, economics, ethics, and metaphysics to illustrate and underline important ideas.
After publication of Atlas Shrugged, Rand focused on writing about and lecturing on her philosophy, by then termed Objectivism, until her death in 1982. She wrote and published her own periodicals, spreading the word about Objectivism, which she called "a philosophy for living on Earth."